An exhibit of SCOP artist paintings is being hosted by Santa Cruz County Bank. Roughly 90 paintings created by 19 SCOP artists now adorn the 5 branches of the bank.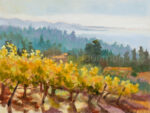 The exhibition theme, Quintessential Santa Cruz County, is expressed through images of many popular and attractive locations in Santa Cruz County.
The exhibit reception is scheduled for Wednesday, September 13, from 5:30 -7pm, at the main branch of the bank in downtown Santa Cruz. The exhibit will run from August 15, 2017 through March 2, 2018.
Visit any of the 5 branches to see the paintings:
Aptos
Capitola
Scotts Valley
Watsonville
Santa Cruz (main branch)
The Santa Cruz County Bank Arts Collaborative is an outreach effort to promote professional, artists and art education by providing exhibiting artists with promotional assistance and by mounting public exhibitions in its banking offices throughout the county. For more, visit: sccountybank.com. The exhibit has been curated by Mary Anne Carson.